October 15, 2011 at 7:00 AM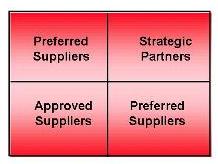 Our sales consulting firm's annual research project received input from almost 40,000 buyers of B2B products and services. Our focus on the other side of the desk, the buyer vs. the seller, has revealed a trend in the buying community that might just be a silver bullet for sales teams in 2012.
The most significant finding from our study is that buyers are segmenting their suppliers. Strategic sourcing is categorizing their vendors into two categories: strategic and non-strategic. The dimensions upon which they are making this distinction are as follows:
#1 - Critical Path Relevance- buyers understand which products/services supplied to them is critical to their company's success. If the buyer's success depends on your product being available to them, you will be labeled a strategic vendor. If the buyer's success has nothing to do with having access to your product, you will be labeled a non-strategic vendor.
For example, Ryder rents and leases trucks. If you sell for a truck manufacturer then you will be labeled by Ryder as a strategic vendor. If you sell for an office supply company, you will be labeled a non-strategic vendor.
#2 - Substitutability- buyers like product/services categories that have many suppliers. Buyers get nervous when only a few companies produce something they need. If a category has 3 or fewer suppliers, and you are one of them, you will be labeled a strategic vendor. If a category has greater than 3 suppliers, and you are one of them, you will be labeled a non-strategic vendor.
For example, call center companies depend on telecommunications providers for their success and there are only three providers left- AT&T, Verizon, and Sprint. Each would be labeled a strategic vendor in the call center industry, due to the limited number of suppliers available.
In contrast, Kindred Health is an operator of acute care hospitals and they purchase lots of hospital supplies. There are dozens of companies capable of providing Kindred Health hospital supplies. If you are one of dozens, you would be labeled a non-strategic vendor.
What did our sales consulting research tell us about the impact of being labeled strategic vs. non-strategic?
If you are labeled a strategic vendor you will have access to decision makers, be able to sell value, will never see an RFP, will get paid on time, will make your number, and will hear the word "partner" a lot.
If you are labeled a non-strategic partner, your calls won't get returned, will be asked to log into a reverse auction when the current contract is up, will be dealing with a procurement manager vs. a decision maker, will have to compete on price, will miss your number, and will never hear the word "partner".
How should sales teams adjust in 2012 given this buying environment?
Recognize that you are not the only ones "segmenting" accounts. While you are locked in a conference room determining which accounts to call on, your customers are locked in a room determining which vendors to care about. It is time for your account segmentation to undergo a "do over".
Bring your customers into your territory design process. Make sure they understand the consequences of their decision on segmenting you as a supplier. Do your customers understand that if they label you non-strategic they will be provided a URL and a 800# to place orders and will not be served by a sales rep? In contrast, have they met your best sales person and been promised to be served by him if they label you strategic?
Modify your key account management program to reflect this new environment. If you are nominating accounts for the key/strategic/national/global account program based on previous spending history, you are using yesterday's play book. Your opinion on who should be a strategic account is meaningless. Only the accounts themselves can determine if they should be in your strategic account program. Be sure to build a key account program based on customer opt-in. Get your accounts excited about the benefits received if they opt-in.
Stop wasting time and money training your sales reps on a sales methodology if they will be asked to use it on accounts that have labeled you non-strategic. You could have the greatest sales process in the world, an army of properly trained reps, and it will not matter if your account does not care about you. It is not fun asking a procurement manager to populate a TCO or ROI tool. But, it is a blast collaborating with a key account who has labeled you a strategic vendor on how to make each other successful.
If you want to see some proof of this trend, you might want consider participating in this event. During these sessions, we review an executive summary of the sales consulting research project and walk through several case studies.
Key takeaways:
Your customers are segmenting you. Be aware of critical path relevance and substitutability.
If you get labeled non-strategic, you will miss the 2012 number.
Alter your 2012 sales planning process to reflect this new reality.
There are a little over 20,000 of you reading this sales consulting blog each month. I think your peers would like to hear from you. Are you seeing this trend? If so, what are your doing about it?
If you enjoyed this post, get free updates by subscribing by Email or RSS.
About The Author (Greg Alexander)
Topics: Sales Consulting Firms, Sales Consulting
Posted by Greg Alexander
Get Updates from the SBI Sales & Marketing Effectiveness Blog