September 19, 2013 at 7:00 AM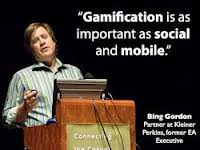 If you are like most of corporate America, your year is ending soon. You have started planning for next year. Part of that may include reviewing the success of some of your initiatives. Perhaps you:
Read More
Topics: CEO, CEO Resources, sales execution, Gamification, Sales Enablement

Most Sales Vice Presidents are practical people. Experience has taught them to view new, hot strategies with skepticism. Sales VPs need a way to separate real management developments from hype. Maybe you've seen the term "Gamification" recently. This article provides an overview of Sales Gamification. Read it to learn if Gamification can help you make the number. Is Sales Gamification just a new term for a sales contest? Or can you use it to focus your team's attention on your initiatives?
Download the Sales Gamification FAQ Guide here.
Read More
Topics: Sales Leader, VP of Sales Resources, CSO, Gamification, Sales Enablement
A few weeks ago I got an email from a client telling me "You have to read this book." This client, Hi Leva of Clear Channel, has a good eye so I paid attention. The book, The Gamification Revolution, by Zichermann and Linder, discusses how to leverage game mechanics to beat the competition.
The concept of gamification is catching on in B2B sales and marketing. A new set of vendors, such as Bunchball and Level Eleven, etc. have brought software solutions to market recently. And it seems like a new set of "gurus" are on the scene teaching us how to gamify everything.
Read More
Topics: sales strategy, Books, Gamification