August 21, 2013 at 7:00 AM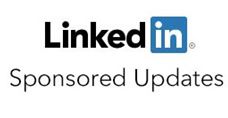 As a Sales & Marketing Leader, you are hungry for high quality B2B leads. B2B Marketers have tested many forms of social advertising. Marketing leaders must challenge past assumptions of how to leverage social advertising opportunities. Facebook & Twitter ads deliver high volume but lack the high-level targeting options. The best B2B option until now has been LinkedIn ads. These ads show up on the top or right hand column on LinkedIn's website. The biggest downfall was that mobile users were not getting these ads. In addition, there was no share-ability capability.
Now there is a new tool to satisfy this need. Introducing, LinkedIn Sponsored Updates. Marketing leaders can use this blog post as a blue print to guide your marketing team to success. At the end, I'll provide a tool to help your team leverage LinkedIn sponsored updates.
What are LinkedIn Sponsored Updates?
Read More
Topics: LeadGen, LinkedIn, Marketing Resources